The professional drone, we developed specifically to perform countless activities, is fully customizable.
Thanks to the integrated PC, it is configurable with almost all the systems and sensors present on the market.
Technical Specifications:
Wheelbase 650-1050mm
Configuration X4-X8
Propellers 12 "-16"
3-6s LiPo batteries
Autopilot DJI A2
Intel Data Processing System
700g frame Weight
Maximum weight at takeoff 5000g
Maximum autonomy 20 min
Gimbal
The Gimbal developed for the ZERO drone is available for different types of cameras, camcorders and sensors.
It is available with 2 or 3 axes with integrated anti-vibration plate to guarantee the complete absence of vibrations in the images.
GenIcam & Camera Controller software.
Tracking software for Search & Rescue.
We also develop specific software for the management of industrial sensors and cameras.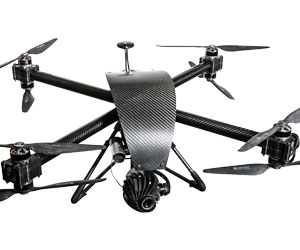 Drone ZERO chassis: from €1,190 VAT included
Drone ZERO ready to fly: From €3,390 VAT included

With the purchase of the drone ready to fly, manuals to directly request the recognition by ENAC, are provided.
Discover all the potential of the ZERO professional drone, the best technologies for unprecedented performance!